---
What's New?
The GFA is now on Facebook! Please like us and add your news, stories and photos.



Help Wanted! Details on American Civil War, 1861-1865 involvements of Goodenows (and all spelling variations) and Goodenow sons. Click here for details.



Results of the Goodenow-surnamed DNA project.


---
The Goodenow Family Association, Inc. is a group of families descended from five Goodenows who immigrated from England in 1638 on the ship Confidence and settled in Sudbury, Massachusetts. The name is spelled various ways including Goodenough, Goodnough, Goodno, and Goodnow among others.
The Association, formed in 1988, publishes a quarterly newsletter, Goodenows' Ghosts, which shares news, history and lineage information about Goodenows worldwide. Back issues are available for purchase. GFA's hardcover book, Goodenows who Originated in Sudbury, Massachusetts 1638 A.D., by Theodore James Fleming Banvard (1994) is also available for purchase.
The first 4 generations of Goodenows descended from the immigrants to Sudbury are presented on this site. The Goodenow database, containing more than 48,000 names, may be queried by e-mailing the database manager.
---

Reunions
Reunions are held every other year at various places associated with the Goodenows.
The 2012 GFA Biennial Reunion was held in July in Washington, DC. Stay tuned for stories and photos.
---
Goodenow Family Tours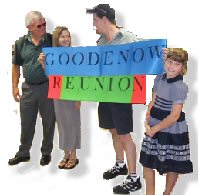 Another tour to South Africa is being planned by GFA former president Stan Goodenough. The trip is tentatively planned for 2012 and will include Cape Town, Durban, Johannesburg, and Kruger National Park. Check back for details.
Previous GFA tours include:
A trip to England in July 2007 to visit various sites related to the Goodenow immigrants.


A 2-week trip in 2003 to South Africa, home of former GFA president Stan Goodenough.


A cruise ship voyage up the inside passage to Alaska after the 2002 Seattle reunion.


A trip to the West Country of England to visit the ancestral home of the Goodenow immigrants in 1996.


---
Last Updated 8 August 2012

©2012 The Goodenow Family Association, Inc. - Contact webmaster. Submit query to database manager.